Locations of Interest:

We are located in the Town of Masaka.  Our parents, Bryan & Cheri Stensaas established churches in the towns of Mbarara & Soroti.  They are currently serving the Lord in the USA. My youngest brother, Andrew Stensaas & his family established a church in the town of  Mbale,  (He is currently pastoring in Eaton, OH) while my other brother, Matt & his family are located in Kasese Town (about one hour drive south of Fort Portal next to Lake George) and have established a church there.
My sister, Alisha, is also serving with us in Masaka.
**You will notice that every time we go to the capitol to shop for supplies, we pass over the Equator.  It takes approximately three hours to travel from Masaka to Kampala.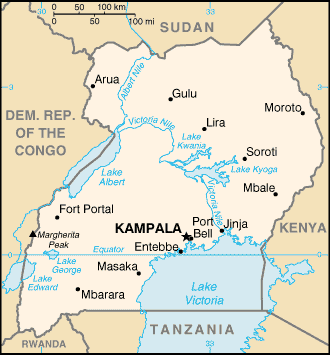 Fast Facts Concerning Uganda
The Republic of Uganda is a landlocked country in East Africa. It is bordered on the east by Kenya, on the north by Sudan, on the west by the Democratic Republic of the Congo, on the southwest by Rwanda, and on the south by Tanzania. The southern part of the country includes a substantial portion of Lake Victoria, which is also bordered by Kenya and Tanzania.
Uganda takes its name from the Buganda kingdom, which encompasses a portion of the southern country including the capital Kampala. 38% of the population of the country lives slightly below the international poverty line of US $2.00 a day at $1.25 per day.  The average monthly income is $86.
Capital:
Kampala
Current President:
His Excellency, Yoweri Kaguta Museveni
Area:
236,040 sq km (91,136 sq miles) Roughly the size of the State of Oregon
Population:
43,000,000 (2018 census)
Languages:
English (official), Luganda, Swahili, Bantu languages, Nilotic languages
Religions:
Roman Catholic , Protestant , Muslim , Indigenous beliefs
Life Expectancy:
54 years (2014); Average Age: 15 years - the lowest in the world
Government:
Republic
Currency:
Ugandan shillings (USh) To see current exchange rate click here
Industry:
Sugar, tea, tobacco, cotton textiles, cement
Agriculture:
Coffee, sugar, tea, cotton, tobacco, cassava (tapioca), potatoes, corn, millet, pulses; beef, goat meat, milk, poultry
Minerals and Resources:
Copper, cobalt, limestone, salt, oil
The Flag of Uganda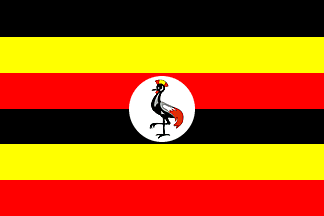 Six equal horizontal bands of black (top), yellow, red, black, yellow, and red; a white disk is superimposed at the center and depicts a red-crested crane (the national symbol) facing the hoist side
National Anthem
Oh, Uganda! May God uphold thee,
We lay our future in thy hand,
United, free; for liberty,
Together we'll always stand.
Oh, Uganda! The land of freedom
Our love and labor we give,
And with neighbors all,
At our country's call
In peace and friendship we'll live.
Oh, Uganda! The land that feeds us
By sun and fertile soil grown,
For our own dear land
We'll always stand
The Pearl of Africa's crown.